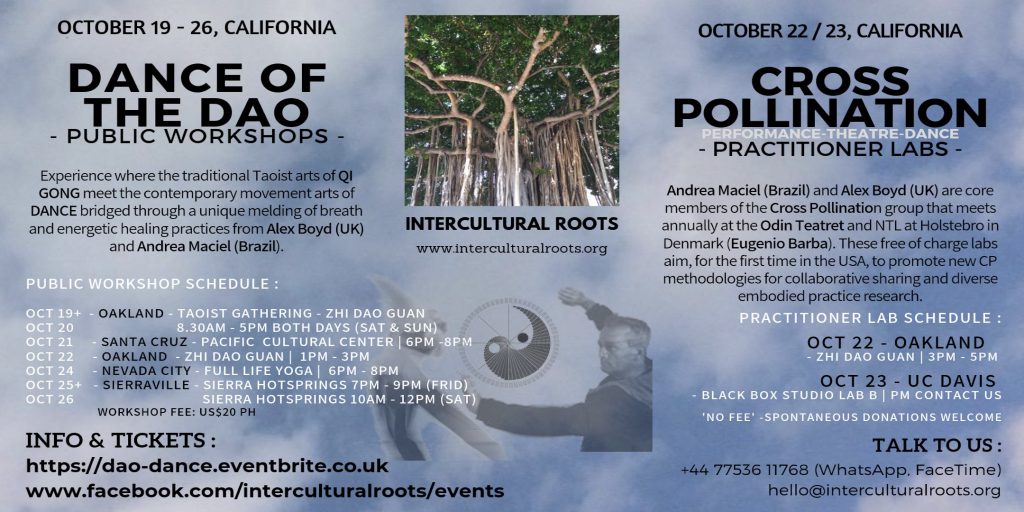 'Dance of the Dao' Public Workshops:
Experience where the traditional Taoist arts of QI GONG meet the contemporary movement arts of DANCE bridged through a unique melding of breath and energetic healing practices from Alex Boyd (UK) and Andrea Maciel (Brazil).
'Cross Pollination' Performance-Theatre-Dance Practitioner Labs:
Andrea Maciel (Brazil) and Alex Boyd (UK) are core members of the Cross Pollination group that meets annually at the Odin Teatret and NTL at Holstebro in Denmark (Eugenio Barba). These free of charge labs aim, for the first time in the USA, to promote new CP methodologies for collaborative sharing and diverse embodied practice research.
PUBLIC WORKSHOP SCHEDULE 'Dance of the Dao':
Oct 19 / 20 – OAKLAND – Taoist Gathering – Zhi Dao Guan | 8.30am – 5pm both days – book using at https://thetaoistcenter.com/product-category/the-taoist-gathering/
Oct 21 – Santa Cruz – PACIFIC CULTURAL CENTER | 6pm – 8pm
Oct 22 – Oakland – Zhi Dao Guan | 1pm – 3pm (+ Lab until 5pm – optional)
Oct 24 – Navada City – Full Life Yoga | 6pm – 8pm
Oct 25 / 26 – Sierraville – Sierra Hotsprings | Fri 7pm – 9pm, Sat 10am – 12pm (free for residents)
workshop fee: US$20 ph
PRACTITIONER LAB SCHEDULE 'Cross Pollination' Performance-Theatre-Dance:
Oct 22 – Oakland – Zhi Dao Guan | 3pm – 5pm
Oct 23 – UC Davis – Black Box Studio Lab B | PM (contact amcboyd@ucdavis.edu)
'no fee' -spontaneous donations welcome
Are you an influencer? FREE attendance at a workshop if you help to promote and bring at least two people along who pay the fee!
Talk to us:
+44 77536 11768 (WhatsApp, FaceTime)
hello@interculturalroots.org
Extended details:
Since 2017 Alex and Andrea have been combining Daoist arts body-breath-mind Qigong practice with the expressive motion drawn from Contemporary Dance and Energetic Training from Physical Theatre. Their 'Dance of the Dao' workshops follow core principles from Cross Pollination in the creation of a methodology of work based on the intertwining of knowledges from different backgrounds.
For the last 3 years Alex and Andrea have been involved as a core members of the Odin Teatret and NTL (Denmark / Eugenio Barba) 'Cross Pollination' (CP) group. For the first time in the US, they will share selected elements from the concepts and methodologies that the CP group has been developing as well as from their own unique collaboration.
'The Cross Pollination movement is so rich that we feel it actually goes beyond a physical theatre practice. We'd love to share what the Cross Pollination group has been developing together through an experiential facilitated workshop at UC Davis melded, of course, with our own particular practices. Practitioners attending should bring along and be open to sharing their own practice and allowing this to be melded through the creative dynamics and tools of co-creation that Cross Pollination can offer. CP is a collaborative process that invites practitioners to recognise an autonomy in caringly handling elements from different practices to create something new and in a nurturing environment that places people before performance. Its' inspiration comes from nature: the bees who travel from flower to flower drinking nectar and sharing pollen as they dance in the hive'.
International Choreographers Week (ICW) 09 to 13/03/19
We have started a collaboration with DansBrabant which will give shape to many different ideas we have been boiling. Our first encounter was at the International Choreographers Week, where Marije Nie and Adriana La Selva shared some of the CP practices with a generous group of participants.
In this eighth edition of the ICW, we will discuss the theme of 'physicality and embodiment'. Our own body, the bodies of dancers, the bodies of the audience … In the practice of a choreographer, there are several bodies that influence how work is done, communicated and received. How do people experience their body today, which influences play a role in this experience of the body and what does that mean in the choreographic practice? Migration, globalization, feminism, the rise of the New Age / consciousness culture. Influences from socio-cultural, technological and scientific angles are examined. In dialogue with the group and in interviews with each other and with people from different social and cultural backgrounds, we identify the implicit and explicit ideas, assumptions and presuppositions about the body and determine choices in choreographic research, in the creation of work and in formulating assignments to dancers. Do we mainly find consensus around the body or also ideological controversies?
NTL Festival – The Laboratory Spirit 30/01 to 04/02/19
Adriana La Selva, Marije Nie, Vilja Itkonen, Sara Strandby and Patrick Campbell were present at the festival sharing workshops and talks. CP also held a 'hacked' session throughout the festival connecting different practices with our sharing philosophy.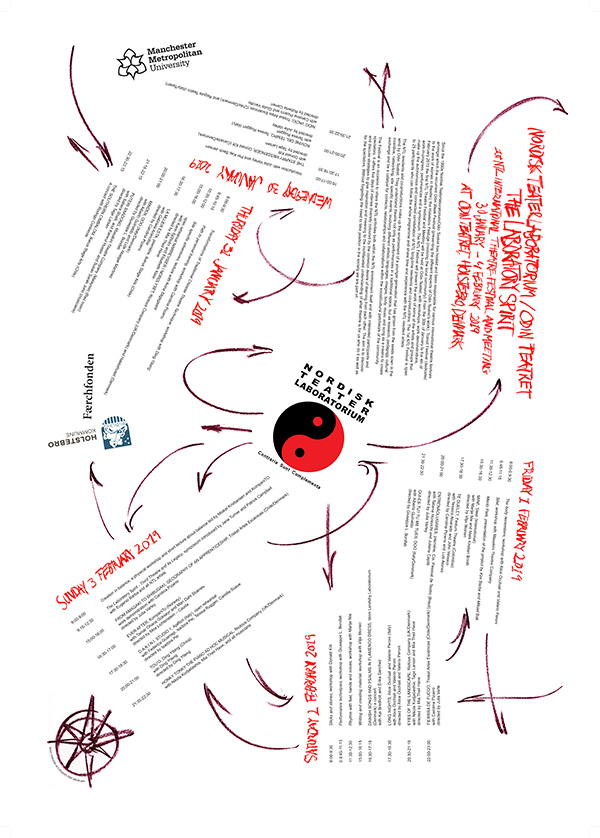 Since the 1990s Nordisk Teaterlaboratorium/Odin Teatret has hosted and been responsible for various international theatre festivals. From the 30th of January to the 4th of February 2019 the first NTL Theatre Festival and Meeting will be held at Odin Teatret, with workshops, work demonstrations, work-in-progress, performances and a symposium. The NTL Festival will present the work of some of the artists and groups that make up the autonomous and connected constellation of NTL long-time residents and co-productions.
The NTL residents and co-productions make up the environment of a younger generation that has grown from the seeds sown in the wind by Odin Teatret. They understand theatre not only as performances in a traditional space, but as research, pedagogy, cultural incentive, networking, site specific events, involving different artistic languages, images, body, music and song as a means to create exchange and be a catalyst for contacts, relationships and collaborations within the social/cultural patchwork of the community.
The aim is to discover and discuss strategies to give inspiration and meaning to the multifaceted understanding of what theatre is for us who do it as well as for the spectators. Without forgetting the need to take position in the society we are part of.