The Cross-Pollination platform was initiated by Adriana La Selva and Marije Nie at Nordisk Teaterlaboratorium in Holstebro (DK) in 2017.
MARIJE NIE
is a musician with her feet, a dancing percussion player. She dances with classical music, jazz, film and dance theater, creates interdisciplinary theater pieces, creative interventions and workshops. Marije is fascinated by the power and the poetry of steps, and their ability to navigate many different worlds. Using the universal language of rhythm, she steps onto concert stages, film screens, boardrooms, and barricades, bringing vigorous energy and joyous virtuosity. She received the Jur Naessens prize for innovation in music and continues to find new paths in music and tap dance. Sharing the knowledge and working methods of artists outside of the stage is a passionate mission for her. Projects in this field range from interactive concerts to lectures, workshops and sessions in which professionals from in- and outside of the arts work together on a shared theme. www.marijenie.com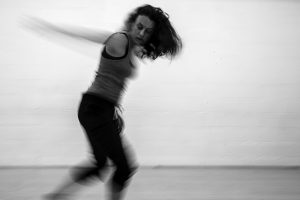 ADRIANA LA SELVA
is a theatre-maker, a performer, a networker and a researcher. Adriana is working on a  practice-based Ph.D. at the University of Ghent in Belgium, in association with the School of Arts (KASK) and the Institute a.pass in Brussels, where she is investigating contemporary performer training processes in relation to politics of embodied research. In 2009, she concluded her Master's degree in Contemporary Arts, also practice-based, at the University of Lancaster, UK, on Deleuze and Guattari's notion of becoming in relation to physical theatre. She is since 2015 member of the international theatre group The Bridge of Winds, led by Odin Teatret actress Iben Nagel Rasmussen. She is interested in artistic projects that support sustainable social thinking, all kinds of urban processions and parades, children performances and, yes, training.
DR ANDREA MACIEL
is dancer, performer, teacher and scholar from Rio de Janeiro Brazil. Her academic/artistic work investigates the physical resonance of space in urban landscapes through dance, performance and installations. Teacher of the Department of Theatre – PUC / Brazil, Andrea holds a PhD in Political Performance for UNIRIO with a visiting scholarship at Performance Department – New York University. She has conducted several research groups in the field of Performance to undergraduate and postgraduate students at the Universities of Bristol, New York and Federal University of Rio de Janeiro and Bahia, Brazil. Andrea has 15 years of practice in physical theatre (Grotowski technique) training for dancers and actors. citybodywritings.wordpress.com
DR ALEX BOYD
has a passion for developing collaboration between embodied knowledge practitioners. He is the founder of the Embodied Research Working Group at the IFTR and is currently developing 'Intercultural Roots', a new organisation operating world-wide for practitioners and scholars to attract grants for collaboration and community projects, teacher training, embodied research and to help preserve and promote indigenous and traditional embodied arts. He is a practitioner-scholar who graduated from the University of California at Davis 'Performance Studies' PhD programme. His dissertation entitled 'The Sustainability of Traditional Knowledge Systems' draws on 20 years of professional practice, performance and teaching in the Chinese Taoist arts (Lishi) that he has immersed himself in under inheritors Chee Soo and Desmond Murray since 1985 until present. Alex is a (non-salaried) Research Associate with the University of California at Davis. His current embodied research explores the micro (qi) and macro (li) energy that manifests ideas into happenings and he works professionally with performers: dancers, musicians, athletes and even CEO's. As a self-employed consultant he supports people and community groups to help establish grassroot charities (not-for-profits) and social enterprises, helping them to fundraise – 'hopeful in contributing to making the world a better place for people to live and love'. www.taoistcentre.org
PATRICK CAMPBELL
is an academic and theatre-maker based in Manchester (UK). He has worked with a number of theatre groups and organizations, including Triangle Theatre (UK), COSmino (Berlin), Contact Theatre (UK) and Teatro Vila Velha (Brazil). His solo performance Black Rivers premiered at the MansWork Festival in 2018, and has subsequently toured the UK, Denmark and Brazil. His co-authored monograph, A Poetics of Third Theatre: Performer Training, Dramaturgy, Participation, written alongside Dr. Jane Turner, will be published by Routledge in 2020.
GONZALO ALARCON
is a Clown, an actor and a teacher of acting. He has been working in the circus world for many years, mainly with the Belgian companies Hopla Circus, Pol & Freddy and Sitting Duck. He has special interest in physical comedy and movement. He sees the art of clowning as a meeting point between different forms of expression and performance. Gonzalo studied Commedia dell'Arte as well as the theatrical use of the mask with Michele Monetta and Carlo Boso. He studied Clown with Michel Dallaire and Paul-André Sagel, among others. He completed his training at the Centre National des Arts du Cirque (CNAC) in Châlons-en-Châmpagne, France. His research focuses on the evolution of comic performance from the historical Commedia dell'Arte to contemporary circus and contemporary street theatre.
JONAS DE RAVE
plays accordion, keys and hammered dulcimer. His specialty is Jewish Klezmer Music (www.maggid.be). He also plays jazz, folk, world music, … He holds a Masters in Jazz accordion at the Ghent conservatory. He is currently active in various projects where he makes the connection between Oriental, African and European traditional music (www.masereelfonds.be/ Activiteiten) (https://dekoer.be/soundroutes) as a coach and / or musician. This year he is on stage with a music and puppet theater show (www.taptoeserf.be)